Pavilion Kuala Lumpur is a world-class urban development, right in the heart of Bukit Bintang directly opposite Starhill Gallery and Westin KL, comprising a 7-level shopping complex, two luxury 50-storey residential towers, a corporate office block, and a 6-star boutique hotel.
Pavilion KL's entire development
The 1.3 million sqft (3.68 million sqft total gross built-up area) luxury mall will have 6 distinct themes or precincts catering for couture, food, leisure, entertainment, home retail and a luxury floor for spa.
Pavilion KL Mall
Come this Thursday (September 20), Pavilion KL, one of the most talked about shopping malls in the capital, will officially open its doors to the public. Rejoice ... to all Shopaholics!
Chic, elegant, classy shopping mall
The shopping experience of world-famous New York's 5th Avenue, Tokyo's Ginza and Milan is now at our doorstep. With the opening of this mall, Malaysia can reinforce its ambition to be South-east Asia's No.1 shopping destination.
Not just that, a pedestrian bridge linking Suria KLCC and Pavilion KL in Bukit Bintang is currently under construction. There are links to other Bukit Bintang malls as well.
Wider choices. More Shopping.
*** *** Sneak Preview of Pavilion KL *** ***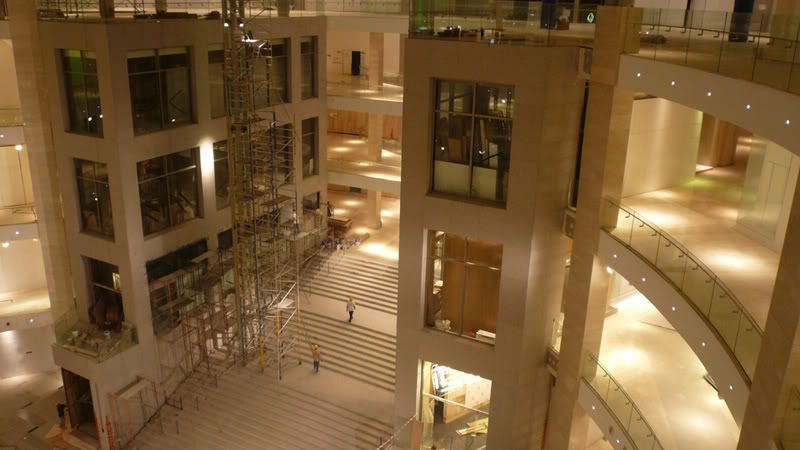 Looks like we have to climb up to Acropolis inside Pavilion KL
Pavilion KL redefines shopping experience in Malaysia. The large airy premises framed with high ceilings and wide corridor pavements will make shopping here a relaxing, pleasurable, unforgettable experience.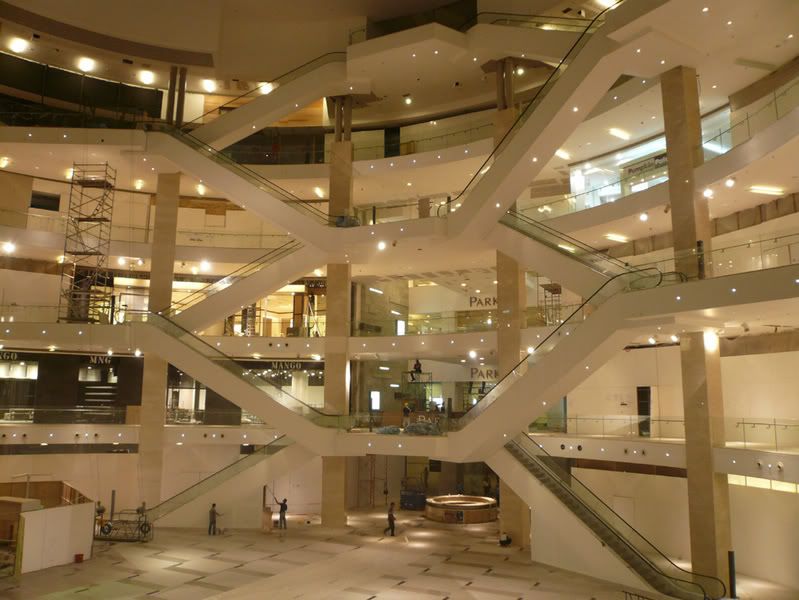 Zig-zag escalators...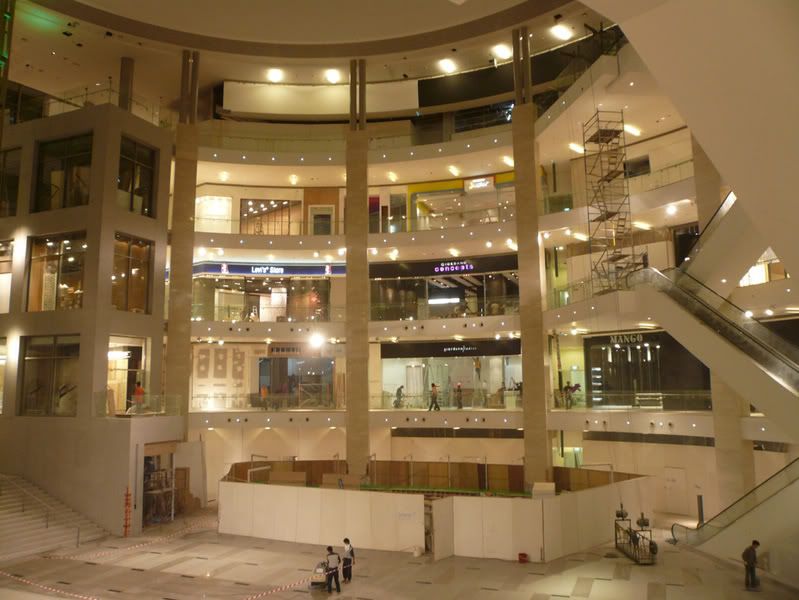 Pavilion's Bintang Circle
Inside the swanky mall...
The wall...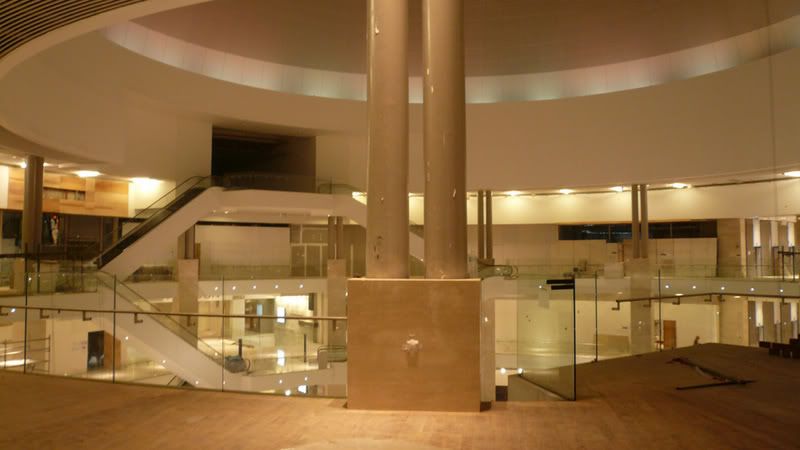 The pillars...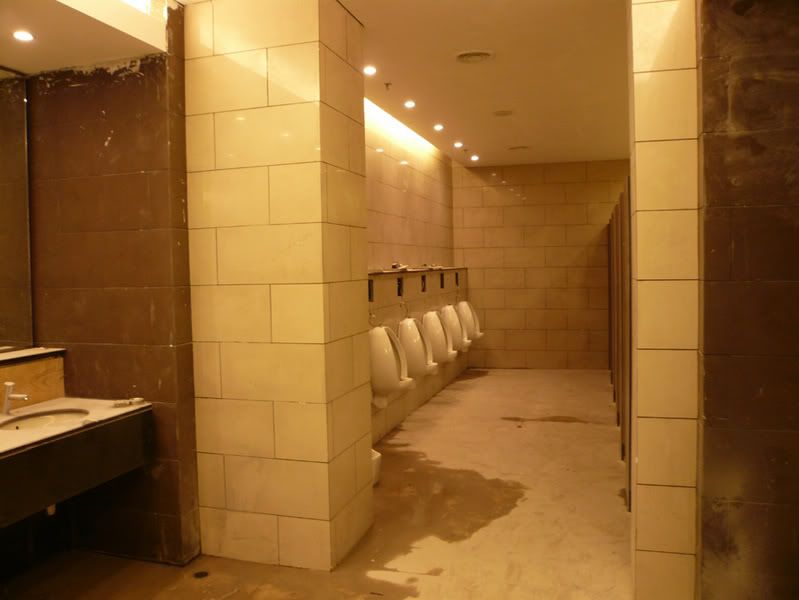 Male Washroom
Most of Malaysia's Flagship Boutiques will be located here
*** *** The Retail Outlets at Pavilion KL *** ***
[The Partial List compiled by Patchay]
From Parkson to Tangs of Singapore to Harvey Norman of Australia, a 3-level Esprit Megastore, more than a dozen double-storey stores including Hermes, Versace, Burberry, Ferragamo, Zegna, Hugo Boss, Escada, Coach, Canali, Chopard, Juicy Couture, MontBlanc etc; many first timers to Malaysia including Diane Von Furstenberg, Club Monaco, Marc Jacobs, Chloe, River Island, Thomas Pink, Lalique Crystals, Kiehl's, Cole Haan, Francesco Biasia, Furla, Mandarina Duck, Joan & David, Reiss, Paul Frank etc. About 20% of the mall's 450 stores will be new in Malaysia.
The biggest Sincere watch boutique, an exclusive IWC, Omega and Rolex Tudor store, local brand Padini's most fashionable outlet, biggest Tiffany & Co outlet in Southeast Asia, Guess?'s first footwear store in Southeast Asia... so many more...
There won't be McDonalds, but Carl's Jr will replace it. Coffee Bean and Baskin-Robbins are to have very special concept outlet. Mercato is anchoring the gourmet supermarket. Watch a movie at GSC's 13 screens, or sing at double-storey RedBox Plus, or play the latest gadget at Epicentre's first all-Apple megastore in Malaysia, or read the latest fiction at Times, then relax at the La Mode Coiffure.
(I'll repost the entire list above on Malaysia City)
*** *** It's all on September 20 *** ***
Pavilion KL, where minds are broadened, hearts are opened. Remember September 20 is the day you have to check out this mall!
Tags: Kuala Lumpur, Malaysia, Bukit Bintang, shopping and Visit Malaysia 2007.
Patchay discusses Pavilion KL at SSC. This post is in association with Patchay@Blogspot, Malaysia City, Patchay@SSC and Patchay Research. Special thanks to fellow SSC Malaysian forumers. Inside mall photos courtesy of forumer James Foong. Also thanks to Shaiful at Oxygen Malaysia, news coverage from TheStar, Jobstreet Malaysia, Retail Online Asia, FJ Benjamin, Melium Group, Valiram, Club21, CloveTwo, NSTP Business Times, TheEdgeDaily, KL Pavilion, KLUE Magazine, Vision KL and other sources.